Great Lengths Hair Extensions

Never before has this method been utilized for human hair processing and, coupled with the exceptional integrity of the Indian temple hair, it truly provides a reliable and unsurpassed hair quality, so good that the hair withstands the most rigorous of lifestyles including subsequent chemical treatments without color fading. Color fastness is a result of the cashmere process as color pigments find a proper space to occupy in the de-pigmented hair rather than just covering hair surface where bleached.
---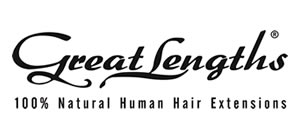 Great Lengths supplies incredibly healthy hair extensions, totally ethical, traceable and  in a wide range of rich and vibrant colors which guarantee versatile satisfaction and creativity to you and to hair stylists.
---
"How are the strands attached to the natural hair?"
Great Lengths patented protein polymer bond ensures a quick and simple application with a heat system. Bonds are made from synthetic keratin mimicking the molecular structure of natural keratin found in human hair and skin and maintaining a pH value of 5.5 to be compatible with your hair, scalp and skin."
*Price upon Complimentary Consultation
**Service includes Shampoo and Style
---
Great Lengths Apps
Lasts 4-6 Weeks; price upon consultation
GL APPS are produced using world famous Great Lengths hair, but with an innovate proprietary adhesion method.  GL Apps are versatile, fun and easy to wear offering instant volume, length or color. This method takes a fraction of the time and lasts up to 3 months with proper care. There is no better quality in hair extensions than Great Lengths!
The APPS can be removed and reused up to 3 times with tape. GL APPS are available in 43 colors.
---
Event Extensions
Extensions are great for personalizing your look for any special occasion adding length or volume to your event style. Extensions can be blended with your hair color giving you a natural, dimensional look for the day.
*Price upon Consultation